E - Gift Cards
Give your loved one the best gift of all, a Birkenstock.
E - Gift cards make the perfect gift. Birthdays, graduation, just a little something to show them you love them, you name it! Online or in-store, our e - gift cards are applicable for all items online from supportive shoes to travel bags.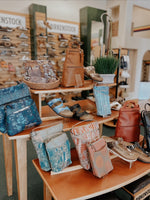 About Our Family Owned Business
Welcome to our family and locally owned sit-and-fit shoe store.
Our goal is to provide over-the-top personal service.  Our experienced staff will connect with you in an appointment or walk-in at the store, by phone, FaceTime, Zoom, Skype, heck, telepathically, if we can! 
The perfect shoe is about the perfect fit.  And we are committed to finding you the just-right match!  We have a wide selection of advanced engineered and stylish comfort shoes in wide & narrow widths.
In addition to Birkenstock, we carry over 30 other brands like Keen, Dansko, Merrell, New Balance, Vionic, Teva, Alegria, Baggallini, Ameribag, DarnTough and SmartWool socks — the list goes on.
SONOMA COUNTY FALL FAVORITES: CLOGS
History
Established in 1994, we have been fitting the North Bay for shoes, sandals, socks and orthotics for over 20 years. Birkenstock Village started as a small department of Pastorale clothing store and we soon realized that Sonoma County LOVES comfort and high-quality shoes.
When Pastorale closed its doors in 2000, we kept on fitting and finding the right shoes and arch supports for people who still want a personal, hands-on shoe-sitting experience.
Our most valuable asset is the customer service that we can bring to you. Our owners and staff strive to make your experience at Birkenstock Village knowledgeable, personal and professional. We want you to leave our store feeling valued, cared for, and informed.
Many of our customers feel that their time in Birkenstock Village was one of the best shopping experiences of their lifetime.
Location
Birkenstock Village
Open 7 Days a Week
10am-6pm
1155 Yulupa Ave., Santa Rosa, CA 95405